Friday 8th May was the 75th anniversary of VE day. Though we couldn't have any actual celebrations due to lockdown, I wanted to make an afternoon tea to do something typically British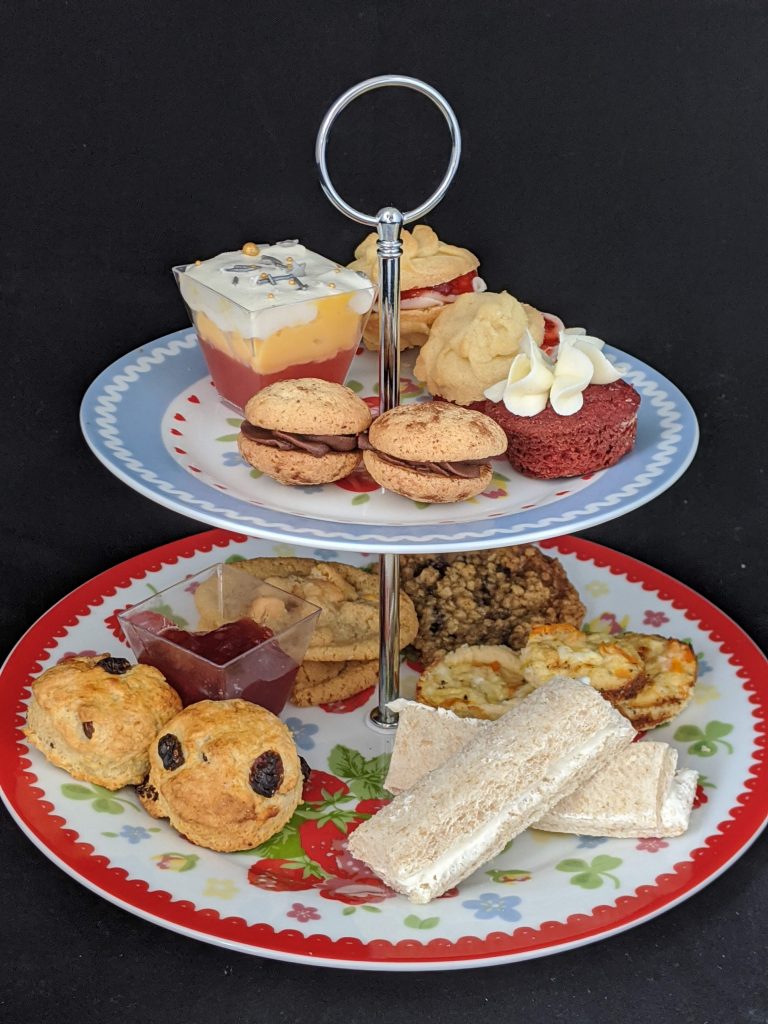 I had purchased my afternoon tea stands quite a few years ago but had not used them in quite a while. This was another bake where I managed to make everything with ingredients already in the house – sadly this meant no cream for the fruit scones (though I did have jam).
Cream cheese sandwiches
Cheese and red pepper mini quiche
Fruit scones with jam
Oat and raisin cookies
Chocolate chip cookies
Cocoa macarons
Red velvet cake
Viennese whirls
Mini trifle
I started on the baking on the Thursday my making the cookies and macarons. I was following a Neurotic Mom recipe for the macarons for the first time, then being an idiot I went in the loft to hunt something and forgot they were there – thus over-baking them! Thankfully they didn't end up too burnt.
The red velvet cake was some of the excess made for the birthday cake I'd made (see last post) so I didn't need to do anything special for them.
The Viennese whirls were a recipe from Mary Berry that I had used a number of times and they always turn out well. So crisp and buttery!
I made the scones in the morning on Friday morning. They baked up well and I don't really have any stories for these ones. As mentioned before, you'd usually have these with jam and cream, but I had no cream in and was unwilling to go out and buy any.
The trifles, sandwiches and quiche were the last items to be made. Nothing much to mention about these except my pastry on the quiche got stuck to the pan so they ended up more like little egg-bites.
Oh, finally, I had made so much extra that I ended up boxing-up a number of afternoon teas to take to family members as "doorstep drop-offs" (as we still can't see each other due to social distancing)